Department of Environmental Security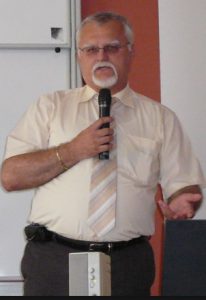 Head of Department
Antal PAPP,  PhD
E-mail: pappantal@wjlf.hu
Tel.: +36-1-577-0500/108
Postal address: 11 Danko utca Budapest H-1086
Mission
The risk of civilizational and natural catastrophes keeps growing in our age. This fact has the consequence that social problems hitting individual people are worsening both in space and in time and in quality.
There are always people in the society who, due to circumstances or their own properties, are unable to meet the expectations of the society. They live and suffer in lack of safety and in captivity of risk. Therefore they need help.
Environmental safety work must be carried out following, applying and critically evaluating exact, scientifically established professional rules. Laws, rules, systems of risk and safety must be known. Risk originating from environmental effects as well as objective professional processes and techniques, scientifically elaborated for the judgment of desirable and undesirable consequences of measures concerning safety must equally be known. Paradigm, i.e. the intuitional model, system of the profession must also be known.
Our College, with the education on the Course of Environmental Studies, wants to teach experts who have up-to-date knowledge and are able to integrate the results of natural and human sciences in their practical work. On the basis of this grounding they will contribute to the efficient solution of practical, planning, analysing, problem exposing, decision supporting, controlling, researching and teaching tasks in connection with environment protection, sustainable development, sustainable safety, environmental conflict handling, that is environmental safety, furthermore to the modern and well-established handling of environmental problems appearing on the most different areas.
The aim of environment safety education is a training which prepares for creative planning and operative work resting on a uniform, up-to-date environmental attitude as well as on high-level social knowledge and practice, clarifying and qualifying for the special tasks of the professional fields. The graduated experts participate both directly and indirectly in the exploration and handling of social problems and in their co-ordination with environment safety tasks, i.e. they contribute to the improvement of the social and environmental condition, safety feeling, safety awareness of the population, furthermore to the more efficient preservation, protection, development of natural values, to human and environmental rehabilitation; moreover, to the realization of a rational environment management resting on the world of ideas of sustainable safety, considering social elements as well.
Academic staff
Name

E-mail

Speciality

List of publications

Bettina BAKOS
Assistant Prof.

Biology

Bernadett BALÁZS

Lecturer

Geography, Climatics

Kisanna Eszter BARNA
Lecturer

Tibor BAJOR,  PhD,
Lecturer

Regional studies

 István BUKOVICS,PhD,
Lecturer

Administration Science

Mariann BORBÉLY PECZE,
Lecturer

Fábiánné Elek Jolán  

János Lajos FEHÉR,
Lecturer

Sándor FRANK,
Lecturer

Balázs FEHÉR,
Lecturer

Róbert GÉCZI PhD,
Assistant Lecturer

Geography

Júlia HORNYACSEK, PhD,
Lecturer

Civil Defence

Imre Zoltán, KABAI, PhD,
Lecturer

Sociology

Ferenc KISS, PhD,
Lecturer

Environmental Science

István KUN, PhD,
Lecturer

Mathematics, Risk Analysis

Károly MANDL, Dr.,
Lecturer

Éva MANDLNÉ MAYER, Dr.,
Lecturer

Péter Tibor NAGY, PhD.,
Lecturer

Education Policy

Rudolf NAGY PhD.,
Lecturer

Emergency Management

 Antal PAPP, PhD,
Head of Department

Military Science

Zsuzsanna PLANK, PhD,
Associate Prof.

Earth Sciences, Geophysics

György, POTÓCZKI, PhD.,
Lecturer

Logistics, Safety Management

Dr. Schweickhardt Gotthilf          

Rudolf TÓTH, PhD.,
Lecturer

Military Logistics
National Scientific Students' Associations Conference
| | | |
| --- | --- | --- |
| Topic | Tutor | Discipline |
| Delineation methodology of subsurface contamination | Dr. Zsuzsanna Plank | Environmental Science |
| Assessment methodology of environmental impacts of geophysical operations | Dr. Zsuzsanna Plank | Environmental Science |
| Research of urban ecology | Bettina Bakos | Environmental Science |
| Ecological impacts of climate change | Bettina Bakos | Environmental Science |
| Adaptation strategies of animals and plants | Bettina Bakos | Environmental Science |
| Methodologies , tools and facilities of public information service | Dr. Antal Papp | Environmental Science |
| Types of environmental indicators | Dr. Antal Papp | Environmental Science |
| Application opportunities of biological environmental indicators | Dr. Antal Papp | Environmental Science |
| Transportation of dangerous goods (hazardous materials) in Hungary, searching for innovative solutions | Dr. Antal Papp | Environmental Science |
| Possible new methods of emrgency reconnaissance using drones | Dr. Antal Papp | Environmental Science |