After admission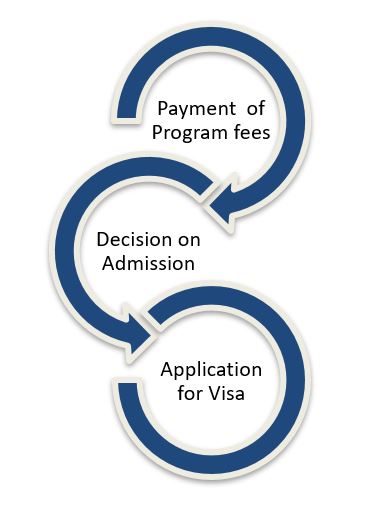 To Do List:
Transfer the programme fees of the first and the sixth semesters (non-refundable fees) to Wesley's account.
The final Decision on Admission, forms for enrolment and dormitory request are delivered by e-mail.
Apply for visa.
Plan your arrival.
Inform Wesley on your arrival.
Application for student visa
You should apply for visa at a Hungarian Embassy. List of embassies:
https://www.embassypages.com/hungary
Please contact an Embassy to learn the documents that are required for issuing the visa.
In case of personal interview you may be asked to talk of the following topics:
Accommodation
Low cost dormitory accommodation is offered for Wesley students in the campus. Should you wish to apply for dormitory accommodation, please download the form: https://wesley.hu/wesley-college/wp-content/uploads/2019/05/Dormitory.doc and follow the instructions that appear on it.
Enrollment
The enrollment period for foreign students lasts till 13th The enrollment must be done personally in the Registrar's Office . Opening hours:

Monday, Tuesday, Friday: 9:00-13:00
Wednesday, Thursday: 11:00-15:00

Documents required for enrollment:

2 photos
Passport
Certificate on High School Completion (original and one copy)
Bank account number
Number of health insurance (TAJ)
Administration for long term residency
Wesley's mentor program will guide you to go through the necessary administration steps for long term residency in Hungary, such as:
applying for residential permit
opening bank account
arrangement of health insurance card
student job opportunities
In order to join the mentor program, please let us know the date of your arrival as soon as possible.
Schedule of academic year 2020/2021
Semester 1
Enrollment: 24 August-5 September 2020
Opening ceremony: to be announced later
Study period: 7 September-19 December 2020
Public holiday: 23 October 2020
Semester break: 19-22 October 2020
Exam period: 21 December 2020-23 January 2021
Post-exam period: 25 January-30 January 2021
Semester 2
Enrollment: 18 January – 30 January 2021
Study period: 3 February – 15 May 2021
Public holidays: 15 March 2 April, 5 April, 24 May 2021
Easter Holiday: 6-9 April 2021
Exam period: 17 May – 19 June 2021
Post-exam period: 21 June – 26 June 2021
Closing ceremony: 9 July 2021